Getting kicked in the junk…
…hurts. Getting unstuck (minus the rake) on such a beautiful (errrm horrible) night…priceless.What happened in the first two matches?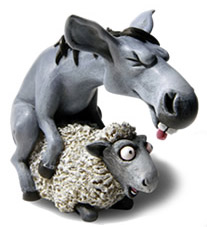 Two hands sum all this up…we're early in both matches…and they scream to give me their money (although not all of it as they already got the best of me in some hands)…
Match Nr.1…beautiful, put his money in stone dead…well…head had outs…either runner runner two pair or trips or runner runner straight…that's a whole lot of outs…wait, not really…
Hmm…not really a good start here. Oh well…may the deck be kind next time. Haha. First he cracks my queens by rivering two pair…then he cracks my kings by calling preflop with 94 s00ted…I'm good enough here to lay it down or else I would have been busto here already…then the next hand goes down…JJ…wheee…now I already here you scream: "You're such a card rack here, why do you even complain?" Well, maybe because this time it get's even worse…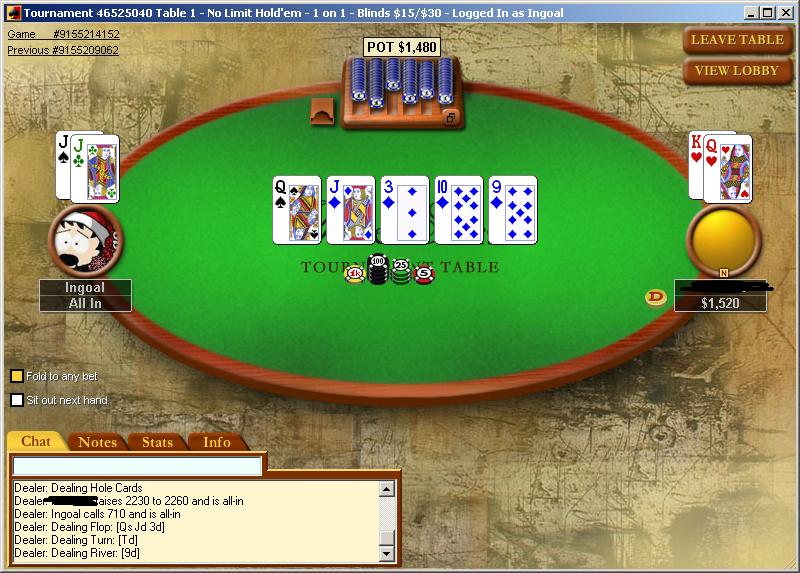 Well, well, what do we have here…a nice little flip…I flop a set…nice…not good enough though…after all he had runner runner outs…which is basically a monster after the flop…lol…well…after that I thought about using one of my precious suckout barf-bags…
…but I didn't, after all this should be enough junk kicking for the night. Jumped right into the next one and low and behold, I actually won it. Wheeeee….so I'm 1-2…things are looking up.
Next match and I trap him beautifully with a turned flush…he's got me slightly covered, but with 2700/300…everything should be dandy…he pushes on the next flop we see…and things are not really looking good for him…me TP…he second pair…
This time it's the turn that get's me and I can't feel to mad about his play here, he's very short, he hit the flop…all good. After that my stack desintegrates though. Yes, maybe I pushed to hard on some hands, but in the end, it was just not to be. I lost hand after hand on beautiful flops where you flop two pair – he flops a set. You flop OESD + pair…he rivers two pair…etc etc…so I lose. Boohoo. 1-3.
Now I'm seriously doubting myself. Can it be that there's a flashing light on my avi that reads "If you're a donk, please play me, you've got a 10:1 shot on every 1:5 longshot"? I guess not, it's basically just the anti-luckbox and a few in a row of those can really make your junk hurt. So I ponder logging off…but I don't…which was a good move.
I played my usual game against the next two opponents and they wanted to give me their chips drawing close to dead again…the difference? This time my hands held up…the beauty of it all. So I log off tonight at 3-3 and the only thing that bugs me is that I spent 1,5 hours treading water due to some sick hands…oh well…may the turn and/or river be kinder next time…it can't get much worse anyhow…so things are looking up 😉
No Comments so far
Leave a comment
Leave a comment
Line and paragraph breaks automatic, e-mail address never displayed, HTML allowed:
<a href="" title=""> <abbr title=""> <acronym title=""> <b> <blockquote cite=""> <cite> <code> <del datetime=""> <em> <i> <q cite=""> <s> <strike> <strong>