AbsolutePoker-18.12.2005
After the ups and downs of today's Omaha H/L play I decided to play a little S&G (9 players, 0.50$ + 0.10$ fee, top 3 in the money) over at AbsolutePoker and what can I say, I dominated the competition!
Look down at the first hand (5-5-Q-J) and watch as the board developed my way…up from 1500 starting chips to 4620 in the first hand…not a bad way to start a tournament:
A few hands later I looked down at 2c-3h-5h-5c and once again the board developed beautifully, flop: Ac-4c-10d almost nuts already, turn: 2d, river: 3c for my first ever straight flush and the nuts/nuts, too. Yeah baby!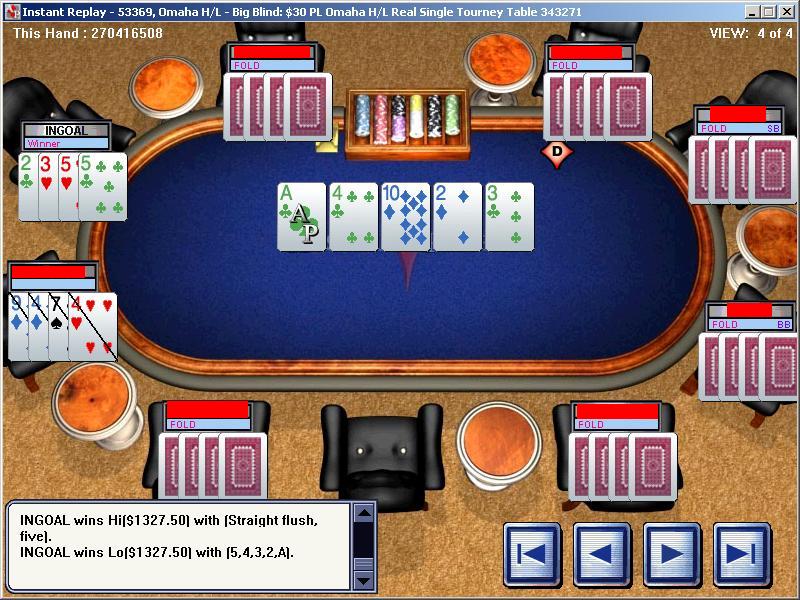 Just played the really promising hands afterwards hence building up my stack to a massive chip lead (around 9000 of 13500 when hitting the money) – although I gotta say that most hands were promising for quite a while as I kept hitting full houses all over the place. When heads up started I was even further in front (9700 to 3600) played some donkey hands, but then was able to finish the deal and come out on top. Finally a S&G victory again! Nice

No Comments so far
Leave a comment
Leave a comment
Line and paragraph breaks automatic, e-mail address never displayed, HTML allowed:
<a href="" title=""> <abbr title=""> <acronym title=""> <b> <blockquote cite=""> <cite> <code> <del datetime=""> <em> <i> <q cite=""> <s> <strike> <strong>