Bad beat city
Sing to the tune of "Gotham City" by R.Kelly…lol… 😉 🙁
I'm looking over the skyline of the city.
How loud quiet nights in the mist of crime.
How next door to happiness lives sorrow,
and signals of solution in the sky.
(chorus)
a city of injustice,
a city of hate,
a city of junk-kickings for everyone of us.
We don't need it, can live without it
Bad Beat City (oh no!!!)
…
Oh man. I'm sounding like an old card-flinger in a saloon, who's telling everyone bad beat story after bad beat story, even though noone wants to hear 'em. This is really sad, it's not even funny anymore. Every god damn time I'm on a "good" run – which equals (slowly) recovering from a monster bad run these days – I'm getting pwned, big time, over and over, without any mercy. Now I can live with some beats here, some beats there. My goal in HU matches is to win 60-x% of the time. Everything below that is bad news, especially due to rake concerns, so that's what I'm aiming and I don't think it's unrealistic, or is it?
True, deep inside, I want to win 100% of the matches when I'm playing better than my opponent, but we all know that's not the reality. But losing close to 100% on a bad run, can't be the reality either. Sometimes it is though where you get hit smack in the face/junk while your opponent laughs his behind off, because he's hitting like a madman, mostly cold-decks too. After all just winning a hand when your opponent doesn't have anything won't get you to the W, you'll need some hands where your opponent makes a strong, but second best, hand too.
…and that's exactly what's happening. You hold Q6o…no raises preflop…flop comes down QQ5…you bet…he smooth-calls…you're screaming on the inside, please please please have Aces or Kings here….turn comes a 4…you bet out…he smooth-calls again…you're screaming even louder…river is a 3…you bet out again…he min-raises you…you laugh…and push the remaining measly few chips in…if he got you here, well…you have me…what does he show? Q7o to scoop the pot…well…it happens…lol…I wonder when I had the best of such a hand for the last time…seems like ages ago…
So you lost the first match…off to the next…after a few orbits, you're slightly down in chips, but look down at AK…now, I normally wouldn't overplay this hand, but I had a feeling that his insta-push after my raise was a bs move. I insta-call his push…he shows? 87o…errrm yeah, very well played sir…flop 7810…have a nice day.
The third match features a W by me…he thought second pair was good, I didn't think so, he didn't suckout. Thank you. One time.
The fourth match…some close hands…no joy in hitting ANY of my 14+ outs twice hands. Not good…so the scoreboard is 1-3…one more, if I win that one I'm quitting slightly down, if I lose it, I'm quitting a little more down.
After just a few short hands I've got my opponent right where I want him, pushing his 10-10 into my AA after I put in the third raise preflop…the rest goes without words…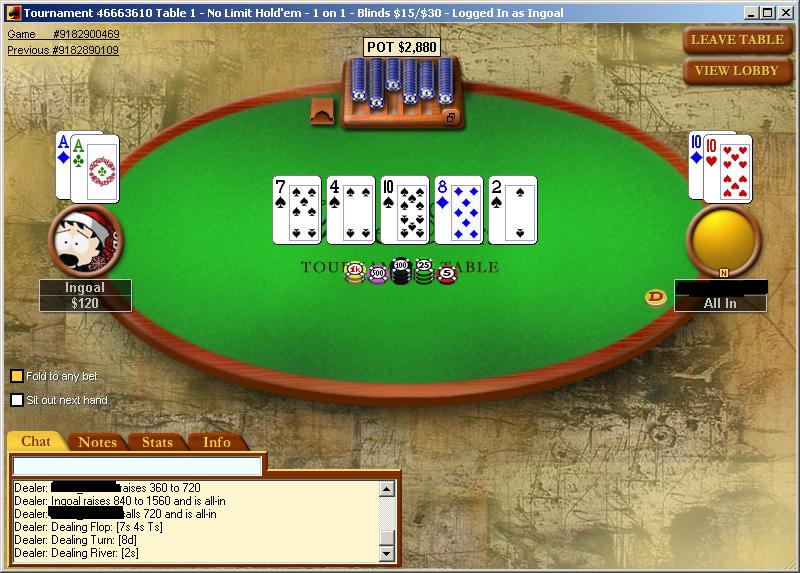 Next hand finishes me off…I push with Qc6c…he calls with Jd6d..flop 3 diamonds..thank you…
After that, I closed the PS client in disgust and watched the EPT live coverage. This is the only upside of today's poker play…I got to see some nice action.
After the broadcast ended quicker than expected I logged back on to play some "relax poker", PL 5-Card-Draw…took second…far from being unstuck, but at least the PS dealer waited till we were in the money before he cold decked me in three straight hands (set over set, he starts with the lower set but boats up; two pair over two pair, he boats up; and aces vs a lower pair, he catches two pair)…((poker + bad end of variance) = the ultimate pain)…that is all…I'm off…