Some HU and a WWdN exit that makes me smile
Well, played only two HU matches today and I'm starting to like it at the "new level" (I switched to the 10$ ones for now, until I get some under my belt and have a look closer look at those numbers, then it's probably up one more level). Won both of those matches easily.
Tonight, it was time for the WWdN…due to whatever reason, it's not the xyz invitational anymore, so I had to do with a description that I busted Wil last week. Fine with me, although I'm not InGoal, but Ingoal, ty 😉
The first table featured the blogfather himself and I had a hard time finding any playable hands. I folded into eternity for the first 30 minutes and when I tried to play a hand, well, in the words of tuff_fish "…ppl called me like crazy".
So…besides folding, I played three noteworthy hands in the first hour. The first one was 99 vs 55 all-in preflop….someone raised preflop…I hoyed him back…he thought long and hard, stating that he thought his 55 was good, then pushed…my nines held up and I was up and running. Two hands later I find AQo…raise preflop…one caller…flop comes down ace high…I bet again…he folds…the third one was me holding AA in EP…I make it 4x…Iggy shoves…I call….he shows AJ…the rockets hold up. Nice…
So, after the first hour of played, things were looking up, but no all that long. Second hand after the break I find 88 in LP…button reraises me…I think hard…and I put him on A10-AJ here…so I push…insta-call…he shows AA…d'oh. A few hands later I find AQo…I pop it preflop, the same player that busted me last week (and who's pretty short at that momemt) shoves…I call..he shows A10…nice…I see the ten in the window…then I realize that the JK is actually giving me the nuts…the turn J makes me sweat a little..but the river is kind…a nice little 3…so I'm back…fast forward a few orbits and I look down at 33 in the BB to a min-raise…hmm…could be AK…could be AA…let's see a flop and try to hit the set…expensive at 400BB…but I'm half-way in…so let's see it….flop 789…not what I wanted to see…check fold…I then donk off another portion of my stack…I look down at 66 UTG…normally I would pop it here…but I try to limp…flop comes down 3Q10 two hearts…he checks…I check…turn is 9h…he bets…I call…hmm….what was I thinking?…river…another low heart….he bets out small again…I make a crying call to see his 5h…he had Ks5h…damn…could I have played this hand any worse? Not really…first, pop it preflop and he most certainly goes away. Secondly fire on the flop…he most certainly goes away…thirdly…reraise on the turn…he most certainly goes away…that's all.
So I'm getting desperately low in chips and just as the second break is about to roll around I'm dead last in chips…down to slightly below 400….damn. I look down at Ac3c UTG….I push…four callers….flopd Q3x…one guy bets out big…the others fold…he shows AQ…turn 3…boom headshot…I type in sorry and head into the second break…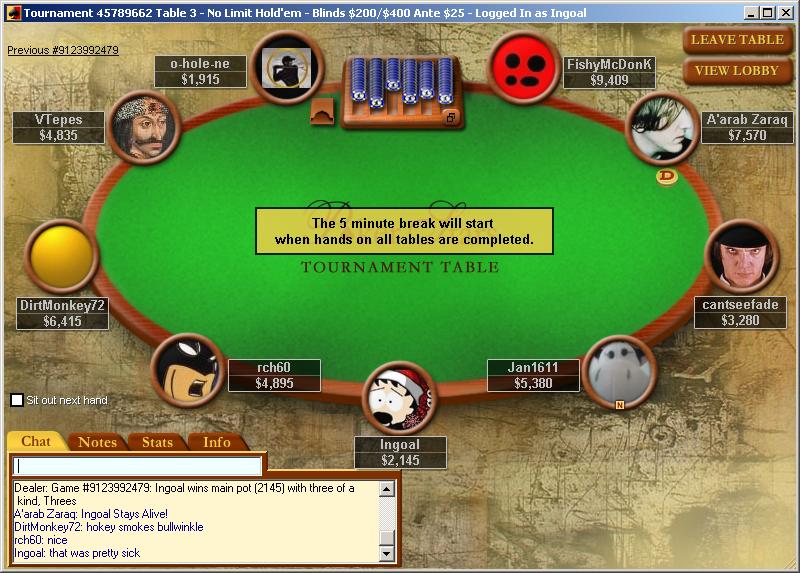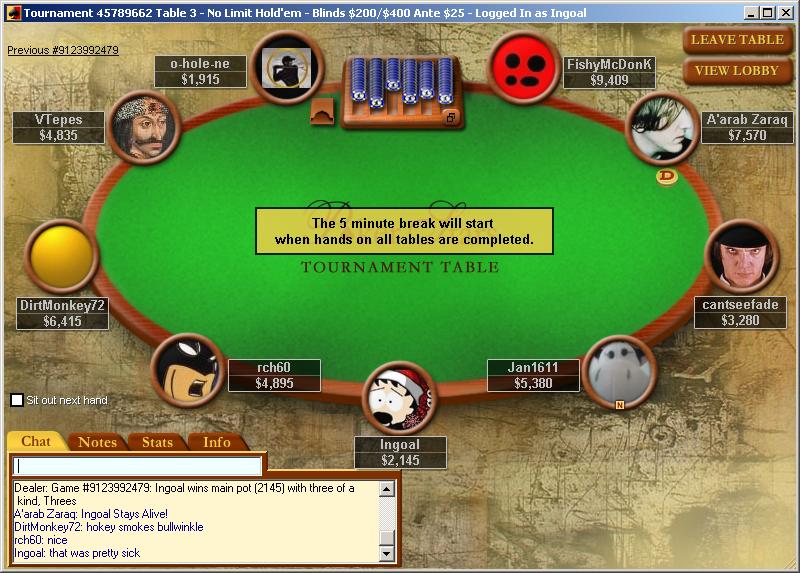 As the blinds increase to 300/600 ante 50 after the break I'm not in that great a shape even after totally lucking out there. I fold Q8 in the BB and 35o in the SB…and i'm back to square one…with 1k…I wait until the blinds are about to hit me again to push in with the hammer…and looking at the screenshot now, still makes me laugh…what better way to exit than with the hammer rivering three deuces…but falling victim to flush over flush…lol…out in 16th….
2 Comments so far
Leave a comment