WWdN #10…
…and finally, finally I made the final table at a blogger tourney! Yes!!!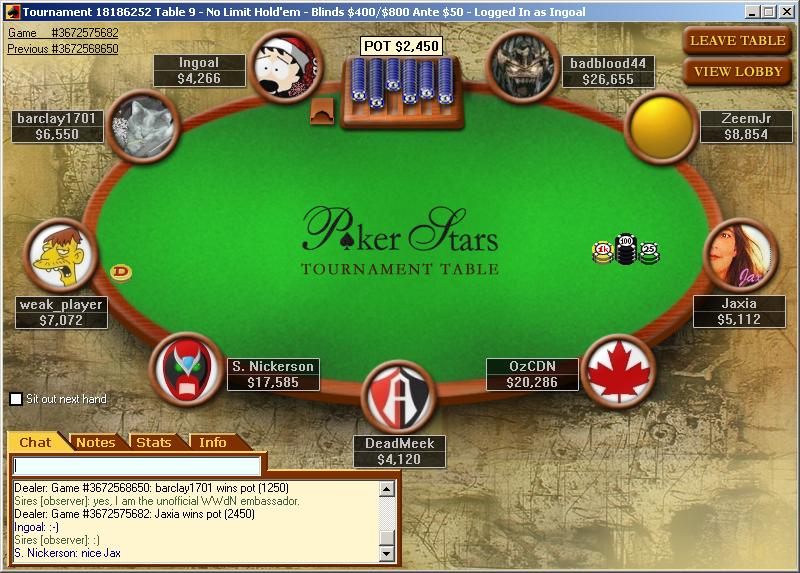 PokerStars Tournament #18186252, No Limit Hold'em
Buy-In: $10.00/$1.00
67 players
Total Prize Pool: $670.00
Tournament started – 2006/01/17 – 20:30:00 (ET)
Dear Ingoal,
You finished the tournament in 5th place.
A $53.60 award has been credited to your Real Money account.
Congratulations!
Thank you for participating.
After a little back and forth and a nice comeback by barclay1701, Bad Blood finished him off and took down 1st place. Congrats! Here's the final result:

On another note:
3rd place is marked in the pic above as I was aiming for that a the beginning of the tournament and forgot to change it to fifth once I busted out.
Thanks to Sires for railbirding in the ft chat and reminding me that the tourney would even take place. Thanks to Waffles for railbirding on yahoo chat (it was reciprocal railbirding as he was encouraging me during my tourney (WWdN 10) while I cheered him on in his tourney (O8 tourney at FTP)).
Update: Wil has a nice write-up about the tourney over at cardsquad*, I didn't know that he was live-blogging the event, cool! Check 8:18pm (river suckout time) and "8:34 PM – Ingoal pushed with AT, OzCDN called with QJc, and paired his queen on the flop. Ingoal paired his T on the river, but it wasn't enough, and he goes out in 5th. Great game, Ingoal!"* – Thanks Wil, I enjoyed to play once again. See you at the tables next week!
2 Comments so far
Leave a comment