Right back at you…
…or the case of the accidental hammer clash (more about that later).
After running bad the last few days it was time to get back into shape or back in the saddle of the donkey, so that's what I did. Played some SnGs (NL HE 3$+0.40$) and was ITM in 3 of 4. The total is: 1x1st, 2x2nd, 1x8th (donkey chasing and connecting) – on a side note: I was down roughly 1:3 in all of the heads up finishes. Was able to turn it around once, although I did well in the other heads ups too…I came back to around even and even took the lead for a while, but just couldn't finish my opponent…
Apart from the SnG action I played some MTTs, too. Nothing spectacular to report from the PL Hold'em tourney, busted out pretty early. Then I played a Fixed Limit one and the funniest thing ever happened. This poker episode is entitled "The accidental hammer clash": I'm UTG+3 and look down at the hammer (7c-2d), folded to me and I decide to limp in, flop comes down 7d-Jd-7h…BB leads out, I raise, he reraises, I cap…turn is the 10c…back and forth again…river is the Js…full house baby…back and forth again…showdown (see pic below):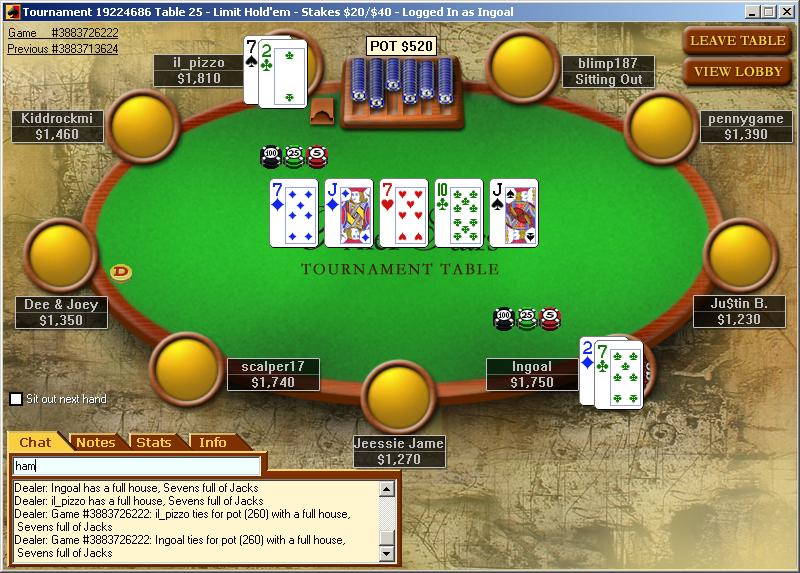 The funniest thing: I correctly shout "hammer time, nh!" in the table chat and I can feel that most of the table is thinking "WTF?!". The BB asks me: "Why did you call with 72o?" I answer "It's the hammer, you gotta trust it! … (poker blogger insider)"…he smiles…nothing funny after that and I bust out rather quickly again as I just can't catch anything.
Then I decided to complete the evening with a NL HE MTT (3$+0.30$). I play some good poker and after roughly two hours of play (already ITM) I bust out in 288th place with Ac-Qc vs As-9c when Mr. BigStack calls my All-In and catches his nine…. not a perfect way to end the evening, but at least I had a good rush today!
Sidenotes:
I never had so many AA and KKs in a single day…which is nice, as most of them held up too.
The whole single table SnG thing with lots of heads up action today was good training…or at least it should be…I better get in shape for DADIII (see below)
Pimpage:

Be there or be square!
4 Comments so far
Leave a comment