WWdN European Edition
Tonight's the night of the first WWdN European Friendly version…starting time is 13:30 ET = 19:30 GMT+1 (18:30 UK). So if you're looking for a good time, get into gear and sign up!
You can find the tourney via the PokerStars Lounge -> Tourney -> Private
The tourney number is 19345283, password is the usual (monkey)…cya at the tables. For more infos check Wil's post about the tourney.
Update: So, I played the first ever WWdN euro friendly tourney. 27 players entered, some known faces (CJ, Sires, obviously Wil, …) and some "newcomers". As there were only 27 participants only the top 3 payed and as it was time to approach the final table (after the 1st break), I got a little impatient and pushed with K-10o which lost to an Ace high (a lovely A-7o). Only thing really newsworthy: I had KK three times within the first three orbits – good thing one might think, it might have been if I didn't chicken out of the first one post-flop (in my defense: Q high with straight and flush draw)…didn't get anything else than the blinds with the other two so I couldn't really take advantage…ooh well.
At the final table the weirdest thing ever happen, change100 sucked out on CJ to bust him out in 4th place ( = bubble-boy)…then we all witnessed a damn fine HU game between change100 and Zen Taff…back and forth the action went and in the end Zen Taff came out on top to "defend europes honor" (lol)…he's from Wales and the winner of the first ever WWdN Euro friendly, cool!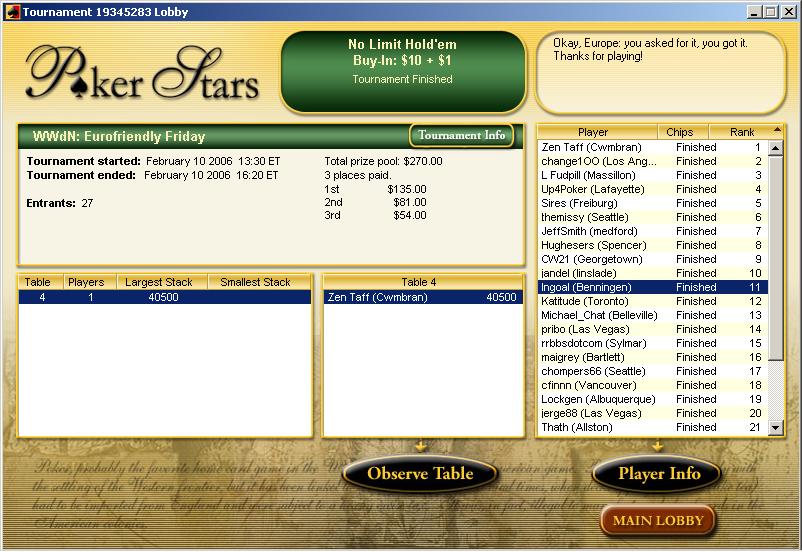 No Comments so far
Leave a comment
Leave a comment
Line and paragraph breaks automatic, e-mail address never displayed, HTML allowed:
<a href="" title=""> <abbr title=""> <acronym title=""> <b> <blockquote cite=""> <cite> <code> <del datetime=""> <em> <i> <q cite=""> <s> <strike> <strong>