Bubble plus one
Nothing much to report today – with the dentist appointment today (he repaired three teeth in one session, yummy) and exams approaching I only play one MTT. Despite finishing as bubble boy + one I had fun playing for over 2 hours and broke the suckout-cycle.
After getting sucked out on time and time again I thought it was time to turn this thing around. Early in the tournament I felt that KdQd was good enough to push on a 10 high flop with 2 diamonds…two callers….no diamond on the turn…no diamond on the river…still I won…I was up against 88 and AQo and I spike the King on the river to push me up to 5.6k (average at that point was 1.8k)! Now I know how all the donks, who usually suck out on me, feel 😉
Played my usual tight game after that and ran into the same problem as usual: getting short stacked when it comes to the bubble. There's some things to be learned here though – I just noticed tonight. I have to loosen up at or prior to the bubble and not just a little, but a lot. I just play to tight and if I don't catch a decent starting hand (didn't hold any pair higher than 5 tonight, AQ once and AJ once) I'm in a tight spot. The blinds are usually so high at that point that my All-In push with two decent cards are no scare to anyone anymore…hence it's inevitable that I get called at least by one player who usually has me dominated.
So, note to self: even if it's boring, review hand histories of recent MTT and analyze which hand selection should be the "bread and butter" during that phase of the tourney.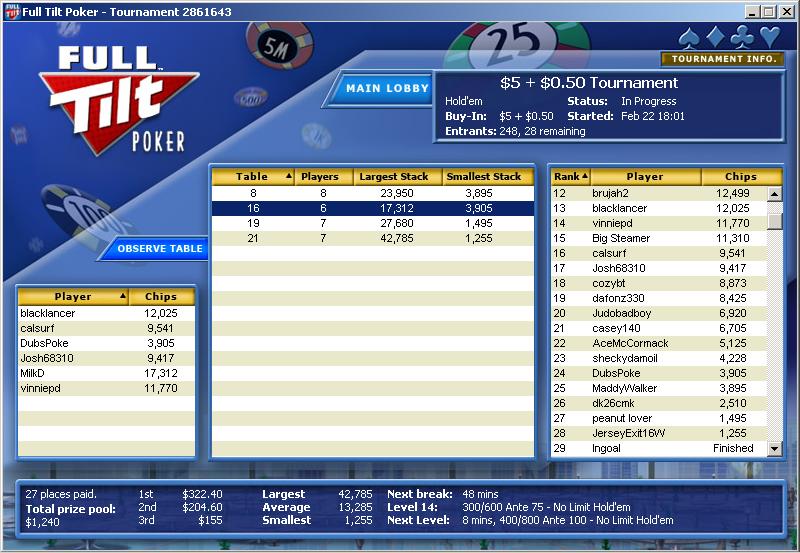 2 Comments so far
Leave a comment