Roundup
Didn't get around to posting anything the last two days, well, there wasn't much going on anyway…some SnGs…so nothing big missed there.
Today I decided to play some late night poker, yet again. I started the session with a turbo SnG and won, w00t. Just as it was about to finish I noticed that the WWdN was about to start, so I jumped in.
My starting table featured the host himself: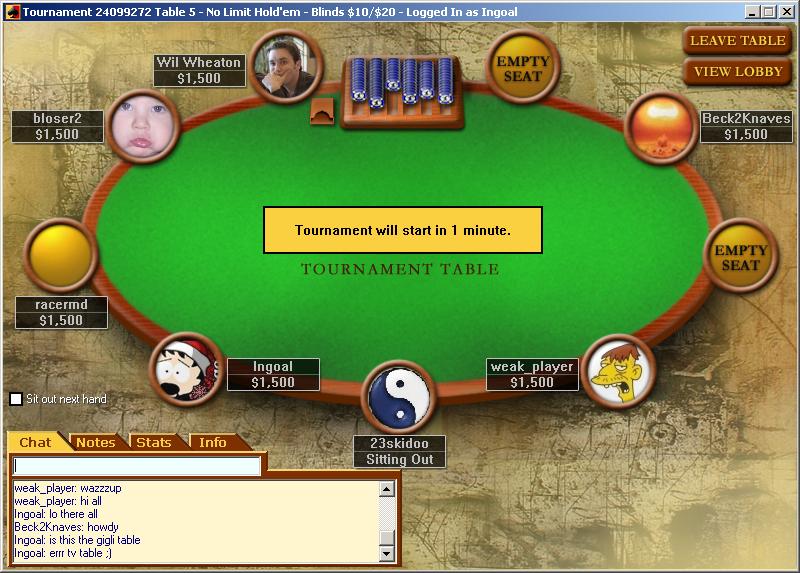 Groovy stuff. Played tight, didn't take any chances and was able to hover in the top 20-25 for most of the time. No suckouts or anything until the dreaded hand came up (I can't even remember the exact hand, but I think it was my AQo vs QJ, AQx on the flop, 10 on the turn, K on the river…runner runner goodness…yuck!) – it didn't cripple me, but it put me right back into the average field, so it sucked, but hey…it's poker… Then I had the "honor" of busting out Wil. My J10 flopped a pair of Jacks, KJx all diamonds though, check check, turn 10, I bet 300…now Wil only has 505 left, so he goes into the tank…at that time I put him on a flush draw, which was true, he pushed with As7d, I called and dodged another diamond on the river…w00t…presenting the Ingoal invitational (although Wil wrote it "InGoal"…):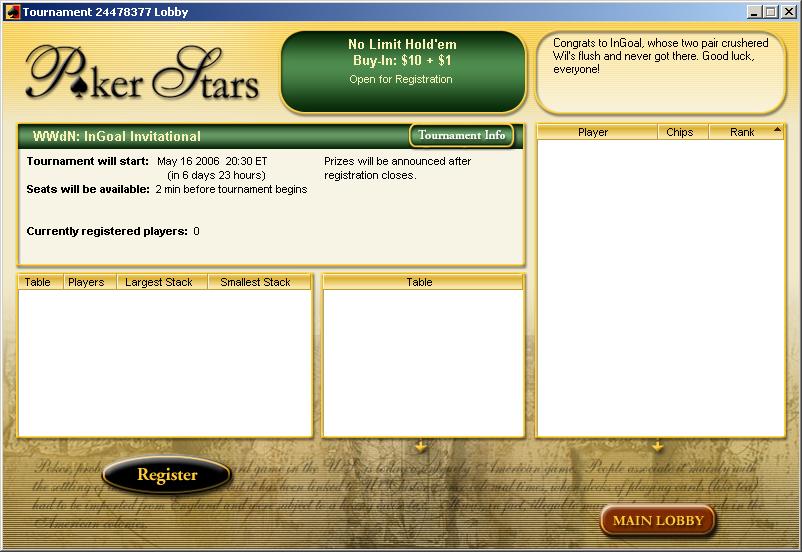 W00t! After Wil busted I kept playing my tight game and it really worked well…until the blinds kept increasing and I just couldn't get anything going against all the big stacks – and if I had a decent to good hand I didn't get any customers…ah well…too bad. Out bubble+1 = 11th…not too shabby 😉
During current Hold'em session you were dealt 181 hands and saw flop:
– 9 out of 24 times while in big blind (37%)
– 2 out of 24 times while in small blind (8%)
– 6 out of 133 times in other positions (4%)
– a total of 17 out of 181 (9%)
Pots won at showdown – 6 of 10 (60%)
Pots won without showdown – 18
I'm really satisfied with my performance, but the same thing that got me that far broke my back in the end: playing (too) tight…I guess I should have been a little more lose come bubble time… alrighty…off to watch the other guys battle it out….6 left….and then it's off to bed…already past 5am…yikes!
2 Comments so far
Leave a comment