Finally some poker again…
So…I'm finally back at the tables, still need to adjust my playing to the new work schedule, so I guess my playing time will be limited to the weekends for now. Tonight I first sat down at the tables at FullTilt to try out the new CAP games – the concept behind that is that you're playing a capped NL format…the cap being 30xBB. So the most money you can win (from any single player) and lose is limited…sounds strange and might not be appealing to some of you, but I gotta say that it really suits me.
I don't know what it is, but moving up in limits is always hard on me – not so much because of the "big leap" in skills of the opponents, but due to the fact that I tend to play like "scared money" for a while, which ultimately lead to some pretty ugly loses in earlier attempts and resulted in me moving down again. With the CAP in place it's a whole different matter though. I sat down and I wasn't playing scared a bit. I brought my A-game and left the table with slightly over a standard/suggested buyin – which is "only" 15 bucks at the .10/.25 CAP game not bad considering the fact that I'm on a mini-bankroll now as I had withdrawn most of my dough from FullTilt in order to pad my "bonus-hunt-bankroll".
After that success I thought it was time to have a good time at fish city aka Bodog. Some three quick SnGs and I'm logging off with a big smile on my face. Why?
1. Because I won two and finished 2nd in the third one (sidenote: I should have won that too, but I'm not too worried about the extra 5% I could have won) 🙂
2. Because I withdrew 80 bucks before starting to play (I deposited 50$ when I started the bonus hunt on bodog) and I still have over 50$ sitting in bodog…add the 9000 points on pokersourceonline I got for completing the bonus and all I can say is w00t! 😉
3. Because bodog support/processing get's an A+ for quickness…about a minute after I requested the withdrawal I got an automated mail telling me that it was being processed in the next 24h, just to find another mail telling me that the money was waiting for me in my neteller account just over 2h later. Nice one, thumbs up bodog!
4. Because I brought my A++ game and the cards went along just fine too. I had AA three times, won one small pot preflop and two big pots as the rockets held up. Had JJ hold up twice and made some pretty good plays including a tough laydown (QQ) when I correctly assumed I was beat (turned small set). Hand of the night (which didn't pay out much and wasn't all that crucial, but nice as I haven't seen a straight flush in ages)…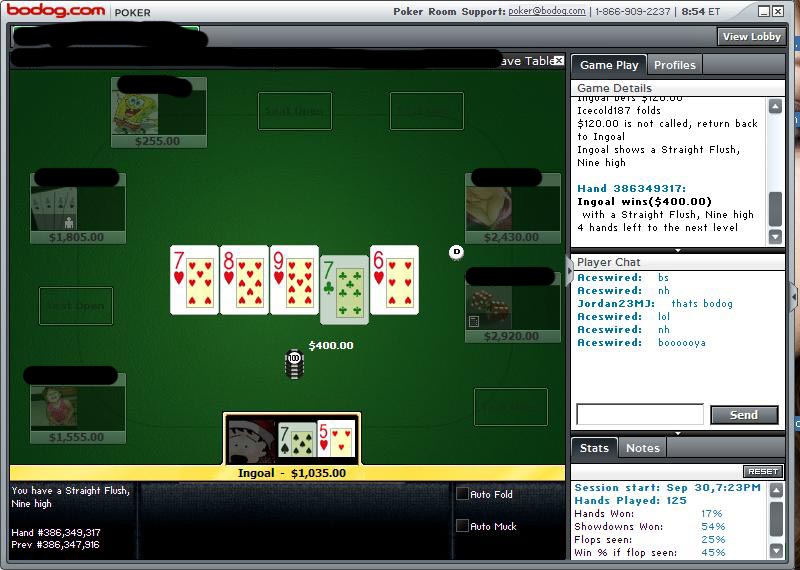 No Comments so far
Leave a comment
Leave a comment
Line and paragraph breaks automatic, e-mail address never displayed, HTML allowed:
<a href="" title=""> <abbr title=""> <acronym title=""> <b> <blockquote cite=""> <cite> <code> <del datetime=""> <em> <i> <q cite=""> <s> <strike> <strong>