Heads-Up is my new bread and butter
…at least for now. After coming home from a Basketball Bundesliga match (Ludwigsburg won against Trier) I fired up bodog and hit the HU tables. Hard! Won nine out of my first ten matches and was smiling like crazy 😉
Then I won three out of the next five. Then I won only one out of the last four, bringing my total to 14 out of 20. Not too bad 🙂
Ups:
1. Totally dominating some of the players
2. Winning one match on the very first hand: I hold QJ s00ted…he holds 97o…I min-raise preflop. He calls. Flop comes 8910 rainbow…OMG…he bets 50 into the 40 pot…I fake the donkey insta-push…and to my surprise he insta-calls…lol…nice.
3. Playing 420 hands within two hours.
4. Totally crushing a donk within one orbit, just to be challenged to a 100$ HU match…lol…yeah right…as if I play a 100$ HU SnG against you lucky tard…
5. Going all out, all the time without fear of the outcome. To quote one of the greatest tag-teams in history (lol)…the Legion of Doom (Road Warriors): Ooooooooooooh….what a ruuuuuuuuuuush! 🙂
Downs:
1. Losing one of the first ten matches to an ultra-donk within the first ten hands. I won the first three or four pots. Then I have him dominated and he pulls out the three outer. Now he has me well covered and lucks his way to the win in the very next hand. I flop two pair…push and he insta-calls with two over…turn pairs the board (not my cards)…river brings one of his overs for the better two pair. If he didn't get lucky the first ten matches would have been a perfect ten 🙁
2. Running into turned quads with a flopped full house.
3. Not hitting anything in the last three matches…besides the point: sure enough the donkeys were unable to laydown even third pair to my bets…ah well…
Alrighty…I'm out of here…weekend is over again…so I'm back at work, probably not able to play all that much during the upcoming week…we'll see…maybe I'll squeeze in some matches…
…ooh..and before I forget it: Some pimpin still left to do…tonight is the "blogger big game"…I won't play due to the starting time…good luck to all anyway…have fun…and write about it so that I'll have something to read about tomorrow night 🙂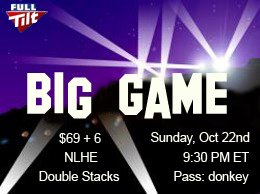 No Comments so far
Leave a comment
Leave a comment
Line and paragraph breaks automatic, e-mail address never displayed, HTML allowed:
<a href="" title=""> <abbr title=""> <acronym title=""> <b> <blockquote cite=""> <cite> <code> <del datetime=""> <em> <i> <q cite=""> <s> <strike> <strong>