Weird weekend, from tooth pain to car wreck
Unbelievable weekend. Left work earlier on friday afternoon as I was starting to feel a little pain in one of my teeth, no biggie I thought. Wrong. Fast forward a few hours and I'm in major pain. So I call the dentist to see if I can sneak in on short notice and yup, I can. So I drive to my dentist and he drills a little here a little there, I feel nothing due to the local anesthesia. I wish him a good weekend and he tells me that I should come back if the pain returns.
The pain doesn't return until yesterday evening…what a brilliant timing…saturday night, time for yet another round of our home game and I'm in pain. Brilliant. Damn it. Ah well, I take some pain killers and make the trip to the home game. We've got a nice turnout of 11 players. I start at the 6 player table and the action is hot early on. In the third hand I suffer the first beat…I hold 10-2o, yup the Doyle Brunson, in the BB…two limpers, so I check. Flop comes 22J…nice…SB checks…I check hoping that the player behind me hit his jack or is at least taking a stab at it. He does as he bets out 2x pot. SB folds…I ponder and reraise the pot. He ponders and calls. Turn is a beautiful ten. Boat baby! I check again…he bets out again…now I'm thinking: two to the flush on board…if he really has the Jack I'm pretty safe…2 outs max…so…I just call…River…Jack (!)…great…I check…and I'm really disgusted, but I call his small bet on the end nontheless…he shows J4 for the higher boat…okay, so I'm a little steaming and thinking to myself: "great, just great. Third hand in and the first two-outer hits against me"…and before I can curse a little the SB chimes in…"Damn, I folded a Jack…my 3 kicker was so weak"…now I'm on insta-tilt as it was indeed a one-outer…damn!
Oh well…after that I took some hands off and then went back to the tight-aggressive game-plan. It worked out pretty well for the next x orbits as I was able to build my stack again. Then there were some consecutive sucky-sucky hands (four outer on the river, runner runner two pair to beat my TP, lost coinflip) and I was down to half my original stack. The blinds slowly but steadily eating me up…so I look down at A7s in the SB…the BB is basically auto-all-in as he's got less than another BB left…one limper in front of me…I push…BB calls (no surprise) but then the EP limper calls. Hmm…I show my A7..BB shows his K7…EP limper shows QJ s000000ted….flop QQx…and IGHN in 7th place (6 make the final table, top 3 ITM)…damn!
In other news: our resident "luckbox" had a little bit of luck again…all-in with less than 3BB…oooh he got QQ…they hold up….fast forward to the final table…ooh…all-in again with less than 5BB…ooh he got AA…they hold up…etc etc…in the end his luck ran out as he lost back to back coinflips (77 vs AJ and 22 vs some random hand)…nontheless, yet another second place finish…it's going to be a hard one to catch him in the POY race…
Now back to the tooth pain and car wreck…my teeth were still hurting like crazy, but I decided that I would play a sidegame if there was one. Two players took off to fetch some burgers from McD…and they took quite a while. Then another while..and they still weren't back as the phone rang…"…What?…anyone hurt?" – uh oh…turns out the took a left turn (were it wasn't allowed) and another car hit them smack in the middle with around 50-60 km/h…ouch…
My teeth are still hurting like crazy…was at the hospital today, but they couldn't help me (apart from giving me more painkillers), so I'll have to pull through it until I can visit my dentist again…
So…I leave you with my personal favourite hand of the night…dem quads biotches!! (Way to go, I eliminated a player and won the huge amount of 2xBB with it; sorry about the bad quality, but I forgot to switch to night vision on my good ol' nokia mobile – the felt should actually be green, not blue 😉 )…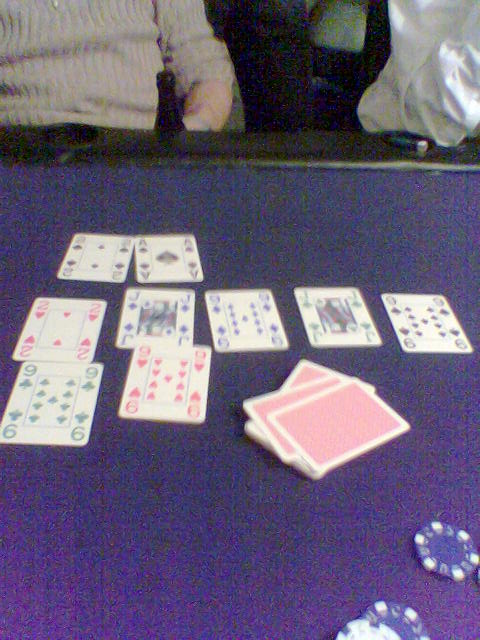 1 Comment so far
Leave a comment