Heads up galore
So…I started the heads-up series against Veneno today. We decided to stick to my original "challenge" schedule of the following matches:
1. NL HE (L)
2. Pot Limit Omaha 8b (L)
3. Razz (W)
4. 7 Stud
5. PL HE
6. Pot Limit Omaha
7. HORSE
So…we started with the NL Hold'em and I sucked, sort off. Couldn't get past the poison as she was hammering away on me, figuratively and literally, for the whole game. She took an early lead and I just couldn't put her on a real hand, just on the "I know what you got? – Oh really? – Yes, you got what we call the best hand"-type of hand. So I was down, but not out, quite quickly before fighting back to take the interim chiplead. After that another downward spiral hit and I was soon very low on chips. The final hand was true poison style…I look down at AQ…ooh wee…but I have only around 2xx chips left, so no doubt she'll call (almost with any 2)…she shows A3…the rest is history…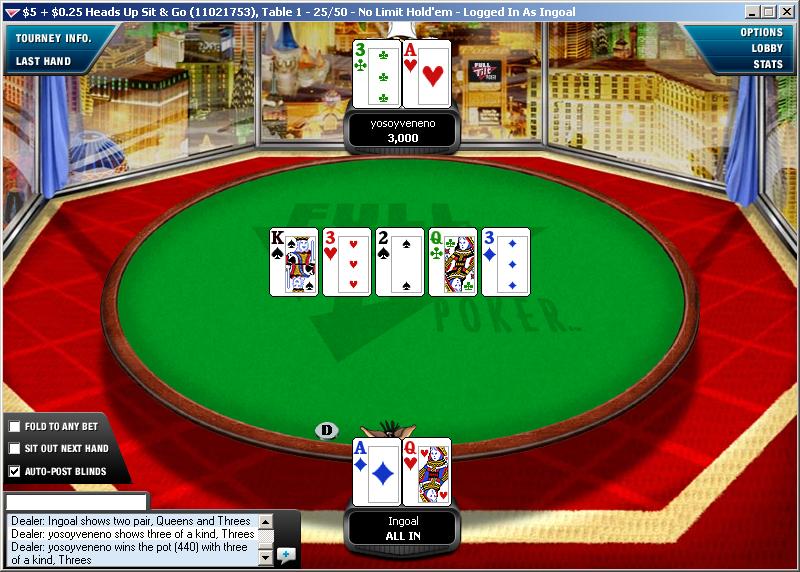 So..down 0-1…and off to the second match. Pot Limit Omaha High/Low split. Hmm tasty, directly from the torture chamber of hell…lol…after all we know that there can be some wild shit flying around your ears in this game, which makes it both fun and excruciatingly painful sometimes…the match is a blur as I can't remember many hands…early on I took the chiplead with a scoop…took down another few smaller pots before giving back most of it and then some…the last hand was 10-8-6-2…board comes 10-8-6…I overplay my three-pair and we get the money in…V shows 7-9-9-K for the straight…I don't improve and busto….0-2, yikes.
After that we head over to the Razz-table and I think ran away with the match. The cards fell my way and I was even able to bluff a little here and there. In the last hand I held a chiplead of 2600 to 400 and sucked out on 6th and 7th street…ooooh the sweet taste of triple atomic antidote…lol…should have used that in the first two matches too 😉
So…I'm down 1-2 after 3 matches and it's crunch time! Really looking forward to the next matches! You better be ready V, I sure will be 🙂
No Comments so far
Leave a comment
Leave a comment
Line and paragraph breaks automatic, e-mail address never displayed, HTML allowed:
<a href="" title=""> <abbr title=""> <acronym title=""> <b> <blockquote cite=""> <cite> <code> <del datetime=""> <em> <i> <q cite=""> <s> <strike> <strong>