FTOPS 1 – Satellite
Well, running bad, check. Still a token remaining? Check. Log onto FullTilt, see what's going on…find a FTOPS satellite to event #1, 35 entrants, 1-3 ticket, 4-6 money, not bad. Register. Sit down and go card dead early on. Not bad either, at least I'm building a rock-tight image early on, this might come in handy in the middle stages. Some pots left and right and I'm hovering around the starting stack, nothing much in any direction. Sit tight, focus, wait for your spots. Prior to break one the first spot occurs, Ac10c in the BB…button makes the standard three-bet…hmm…steal? My rock-tight image should give me some resteal-fold-equity here, unless he's really on a monster. We'll see, I take my chances. He ponders and calls…with Kings…ouch…cold decked again? Maybe, let's see…he doesn't have a club, maybe there's some life. Flop with one club, no ace to be found…turn club…river club…weeeeeee….I did what my opponents tend to do…suckout against a monster. Weeeee….so I'm 0-2 with my monsters in the last few days and 1-0 against a monster. Maybe luck comes in waves after all.
After the break the final table is approaching and I can't help but watch my stack dwindle as I fold fold fold. Finally another shorty pushes in, I look down at A6o and decide to go with it. He shows A4o…we chop on AJ93J board…still short, but at least we got some blowups coming up, gotta love big-stack vs big-stack on a draw-heavy board, especially if both are drawing and willing to risk all…
Short, short…oh well…I'll wait for a good spot and push…the good spot comes when I look down at my dreaded Kings…big-stack calls with Qc4c…flop only one club…I'm good, I'm good….turn is another club….I'm worried, I'm worried…river….blank…Thanks…back in business…We lose two players in the next orbit and we're on the bubble. Two players are pretty short, another player and me and the others already expressed their feeling that they'll sit it out and watch until the bust one of us. Nice. Implicit collusion, lol…a beautiful thing if you're not short-stacked 😉
Long story short: The other small-stacks pushes every hand. By the time he does so for the third time in a row I look down at AK in the BB…now…do I fold here or push? I push…he got me covered by a little bit…and shows 99…is it just me or is it almost certain that he had two napkins the two prior pushes?!
Anyway…flop doesn't help me all that much…runner runner straight or A or K it must be…turn gives me the straight draw, but the river is blank…so I exit in 7th…mr. bubble boy…oh well…can't do much about it, once again no joy in a crucial hand and yes, I was the underdog, by some percent, so 's all good…just would have been nice to win this one and make a run at the ticket with some money secured…oh well…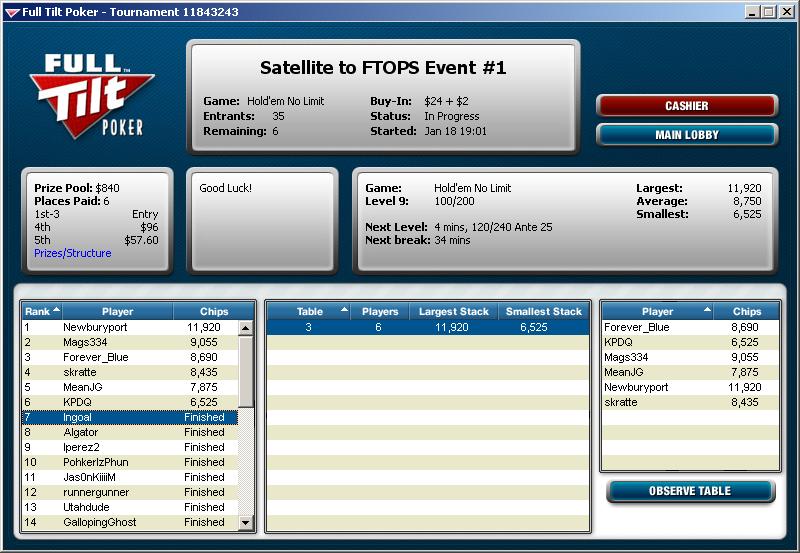 That's it for now…no tokens left, no real desire to play anymore tourneys in the immediate future (apart from maybe the occasional WWdN)…
Good thing: I won't be tempted to play online at all as I'm heading to Austria, a weekend in the snow with the footie team. As I don't ski or board, I'll stick to enjoying the sun and partying my ass off, apres-ski, baby! See you all on the other side (sunday late evening, monday)…have a great weekend…
No Comments so far
Leave a comment
Leave a comment
Line and paragraph breaks automatic, e-mail address never displayed, HTML allowed:
<a href="" title=""> <abbr title=""> <acronym title=""> <b> <blockquote cite=""> <cite> <code> <del datetime=""> <em> <i> <q cite=""> <s> <strike> <strong>