The WWdN, running good and the hand after which I wanted to throw up on my keyboard
Entered the WWdN just before it started, not that many players…the host…missing. He made it just in time though and sat down at my table, which was cool – it's always fun to play with Wil.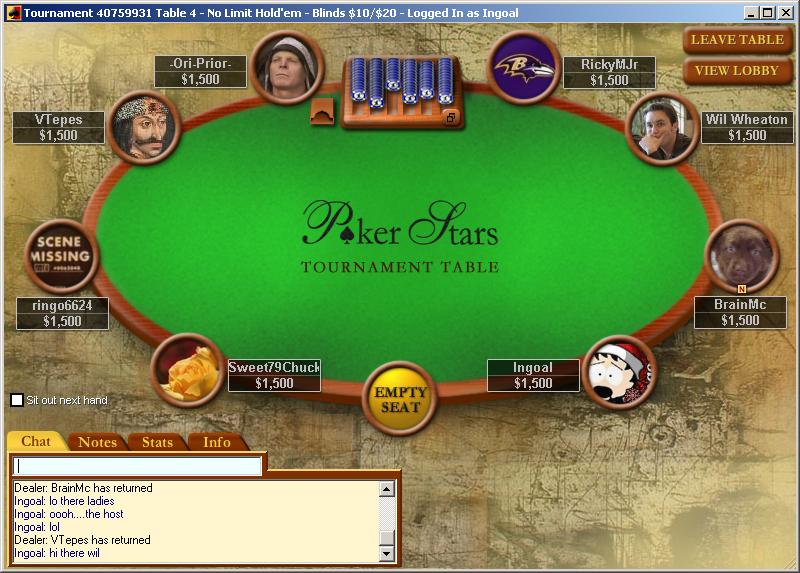 Played my usually tight game, which turned to tight aggressive once I commited to a hand and wow, I was running good, sort off. Had some crucial hands for all the marbles and yes, I went in with the best and came out with the best, all the marbles. So I'm sitting pretty in chips and just prior to the final table I win another big one (flip 10-10 vs AJ) and so I sit pretty as the final table begins.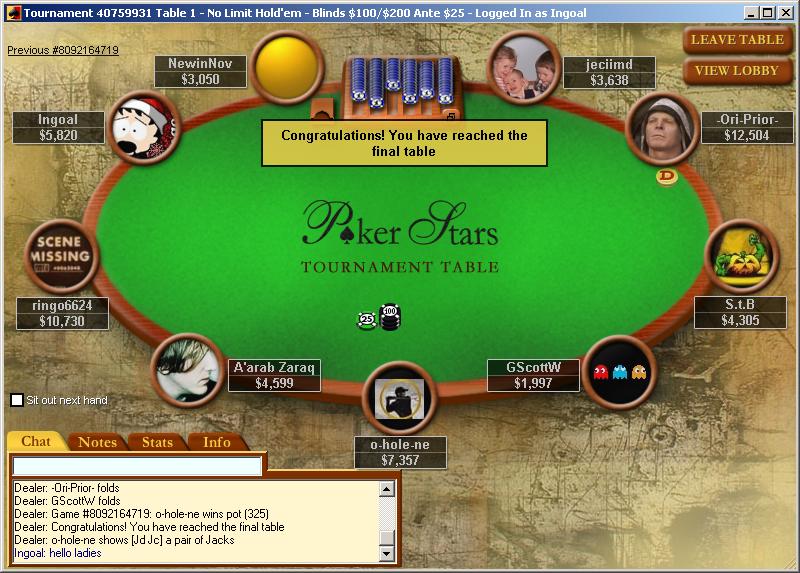 As we were only 36 players strong though, final table isn't ITM this time. 5 spots pay so we're still a long way to go until the bubble bursts. After a bone-headed blind-defense, I look down at a measly stack once the second break rolls around…not a pleasant spot to be in on the bubble…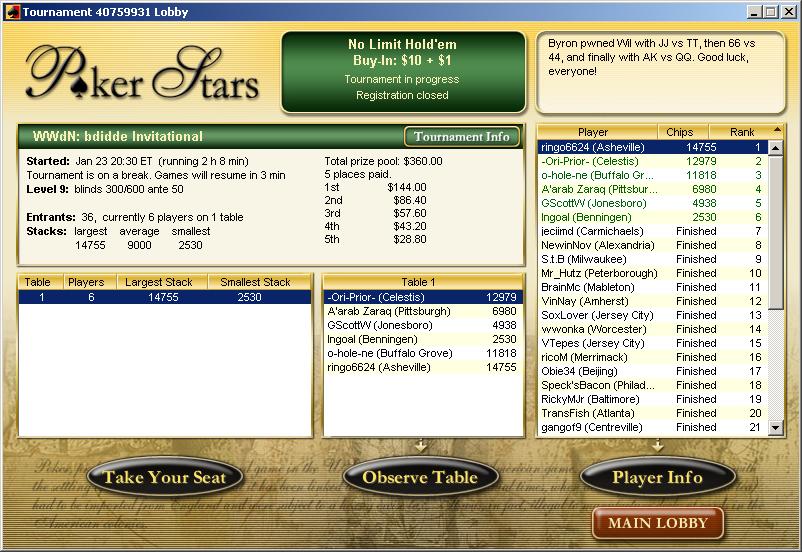 I'm 6th of 6 with 5 spots paying, so I better catch something soonish. I do as I get a free look at the flop in the BB.
Dealt to Ingoal [5c Qc]
*** FLOP *** [8c 5h 8h]
ringo6624: bets 1200 < - well, if you got the 8 I'm done, if you got an overpair and limped I'm done, but I don't think so Ingoal: raises 530 to 1730 and is all-in <- all you can eat baby o-hole-ne: calls 1730 <- uh-oh ringo6624: calls 530 <- well, that was expected *** TURN *** [8c 5h 8h] [Kd] <- hmm...not really the card I wanted to see ringo6624: checks o-hole-ne: checks *** RIVER *** [8c 5h 8h Kd] [6d] <- hmmm...if that helped anyone I might as well throw up on my keyboard *** SHOW DOWN *** ringo6624: shows [3h 6h] (two pair, Eights and Sixes) Ingoal: shows [5c Qc] (two pair, Eights and Fives) o-hole-ne: shows [4h Ah] (a pair of Eights)So indeed, I went in with the best, both were flushing, it didn't get there, but the 6 on the river was enough to kill me...ouch :(Goooo...bubble boy...
All in all, I can't be too unhappy though, played a good game, went in with the best at all times (apart from one time where I sucked out with J9 vs J10) and everything went fine until the last hand…what can you do? Apart from that ugly finish, I witnessed some of the more brutal exits…that's another reason why I can't feel to bad (I was 64% to win the hand, A4 was 29%, 63 was 7%)…compare that to the hand Wil lost early on AA vs AdQ with a diamond four-flush hitting the river or the following hand…can you say runner runner ROYAL FLUSH against ACES – that's a bad beat for the ages!!!
PokerStars Game #8091395859: Tournament #40759931, $10+$1 Hold'em No Limit – Level IV (50/100) – 2007/01/23 – 21:24:54 (ET)
Table '40759931 1' 9-max Seat #1 is the button
Seat 1: jeciimd (3784 in chips)
Seat 3: BrainMc (2070 in chips)
Seat 4: GScottW (865 in chips)
Seat 5: o-hole-ne (3125 in chips)
Seat 6: A'arab Zaraq (2456 in chips)
Seat 7: gangof9 (1170 in chips)
Seat 8: VTepes (1980 in chips)
BrainMc: posts small blind 50
GScottW: posts big blind 100
*** HOLE CARDS ***
o-hole-ne: folds
A'arab Zaraq: folds
gangof9: folds
VTepes: raises 300 to 400
jeciimd: calls 400
BrainMc: folds
GScottW: raises 465 to 865 and is all-in
VTepes: folds
jeciimd: calls 465
*** FLOP *** [Js 4s Tc]
*** TURN *** [Js 4s Tc] [Kc]
*** RIVER *** [Js 4s Tc Kc] [Jc]
*** SHOW DOWN ***
GScottW: shows [Ac Qc] (a Royal Flush)
jeciimd: shows [Ah As] (two pair, Aces and Jacks)
A'arab Zaraq said, "OH"
o-hole-ne said, "wow"
GScottW collected 2180 from pot
A'arab Zaraq said, "MY"
GScottW said, "wow!"
A'arab Zaraq said, "GOD"
*** SUMMARY ***
Total pot 2180 | Rake 0
Board [Js 4s Tc Kc Jc]
Seat 1: jeciimd (button) showed [Ah As] and lost with two pair, Aces and Jacks
Seat 3: BrainMc (small blind) folded before Flop
Seat 4: GScottW (big blind) showed [Ac Qc] and won (2180) with a Royal Flush
Seat 5: o-hole-ne folded before Flop (didn't bet)
Seat 6: A'arab Zaraq folded before Flop (didn't bet)
Seat 7: gangof9 folded before Flop (didn't bet)
Seat 8: VTepes folded before Flop
P.S. Don't even ask me while the last part of this post is one giant link, I tried everything, even reposting this, but somehow WordPress get's the job done to totally fuck this up…oh well…
No Comments so far
Leave a comment
Leave a comment
Line and paragraph breaks automatic, e-mail address never displayed, HTML allowed:
<a href="" title=""> <abbr title=""> <acronym title=""> <b> <blockquote cite=""> <cite> <code> <del datetime=""> <em> <i> <q cite=""> <s> <strike> <strong>