Rebuy madness and some live poker
As I was too tired to write up a summary of Kat's Friday Rebuy Madness (TM) this morning (after I busted out after over two hours of play, past 5am), here it goes, spiced up with some live poker.
I had a terrible session prior to the rebuy madness. I couldn't win a hand to save my very soul and after the first match I discovered a big, maybe even giant leak in my (HU/SnG) game. What is the leak? Impatience combined with being annoyed of all the luckboxes I'm facing on a daily basis. Now, this maybe doesn't count as a genuine leak, but really it is. I play a match, play the best I can, put the money in with the (significantly) best of it and I lose. I go off the deep end in the next x minutes playing suboptimal strategy (making bad calls, getting impatient, calling in bad spots, etc). So I really need to work on that. When I'm in the zone (and stuff like this doesn't happen) I'm waaaaaay ahead and crush the game. But as soon as a session starts off with a real bad beat or a succesion of such hands, I lose it and donk out of the next ones. Not a good thing.
But enough of the session prior to the rebuy madness. The rebuy madness started off with a real bummer. I got the first monsters I held crushered, big time. What did I hold? The hammer and the jackhammer, both crushered by "overcards". Sick, sick, sick 😉
So I rebought a few times donking around like there's no tomorrow…and that's the real beauty of this tourney. There's just no better way to spend x dollars. You buyin for 2 (1+1; or better 3) dollars and donk around. If you make a mistake or donk move – who cares? 1$ will get you another 1k chips, 2$ will get you another 2k chips. Heeeehaaaw…enjoy. After the early "bad luck" – how dare you crusher my (jack)hammer?! – I picked up some nice hands and even cracked aces with a donkhand. Brilliant. After one hour of donkfoolery, I take the addon and the field looks like this: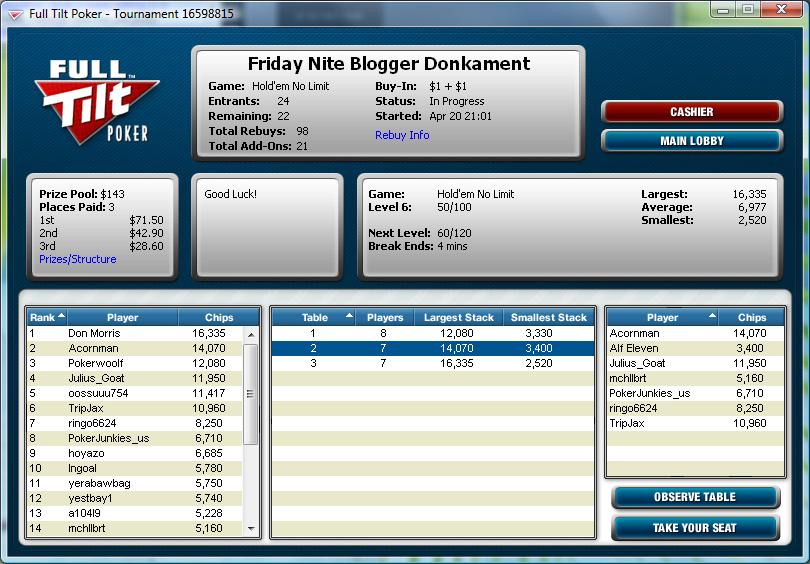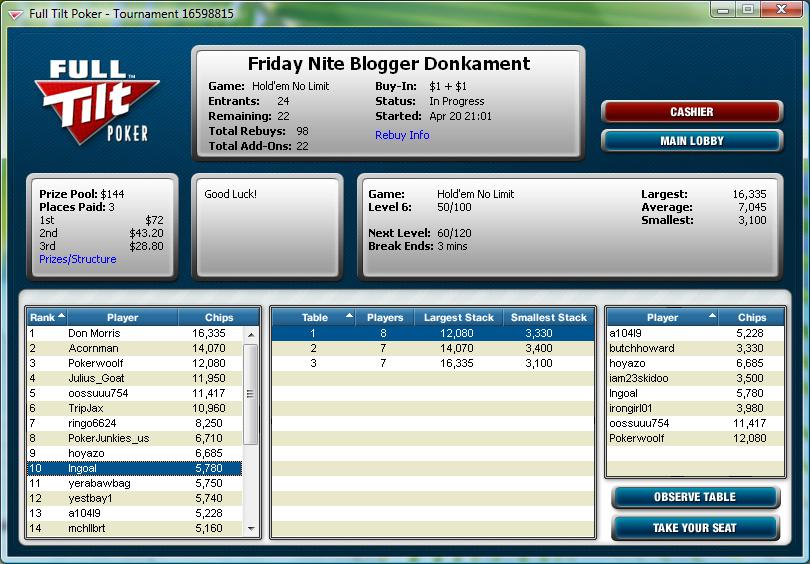 Then I got moved to another table as some players pussed out (cough, Wawfuls etc, cough). Who do I find on my left…Mr. TripJax along with three other bigstacks…hmmm….nice…NOT.
A few hands in and it's obvious that some players are picking on my blinds, so it's time to make a move. Trip raises from UTG and I look down at KQo in the BB…no way I'm folding here…so I call…hit top pair and it goes to the river…after the hand, it's revealed that he had the hammer and picked up an OESD which didn't come through on the river though. So I pick up the pot and enjoy myself. The very next hand I get dealt the hammer myself in the SB.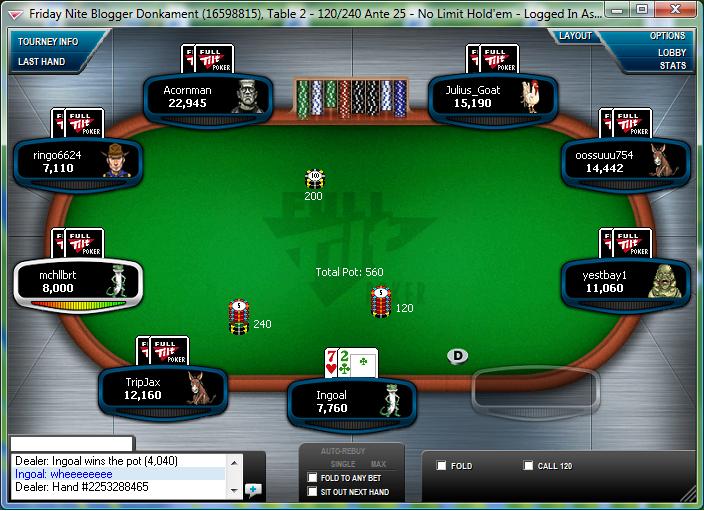 After I miss the flop completely, I lead out nontheless with a nice sized cbet. Trip raises though and I have to fold the hammer. Back to square one.
The next hour is mostly a blur, win some lose some, but one hand stands out. If I knew that, I would have called the preflop raise. I sit with A9o on the button…one limper as it get's to me…I limp as well…trip raises…limper calls…I ponder as the raise would be like 20-25% of my stack…so I decide to fold as I've got the feeling that I might be dominated here…flop comes down 992….whine…sigh…turn K…river 2…showdown Trip A8o…limper 66…so sick…if I call there…I triple up for sure, why? Because trip leads out for 2.5k on the flop…limper raises to 5k…no way in hell that I'm not either flat-calling or pushing there (7k) and at least the limper would have called the extra 2k for shizzle…oh well…just as the second break is about to kick in, we're down to the final table…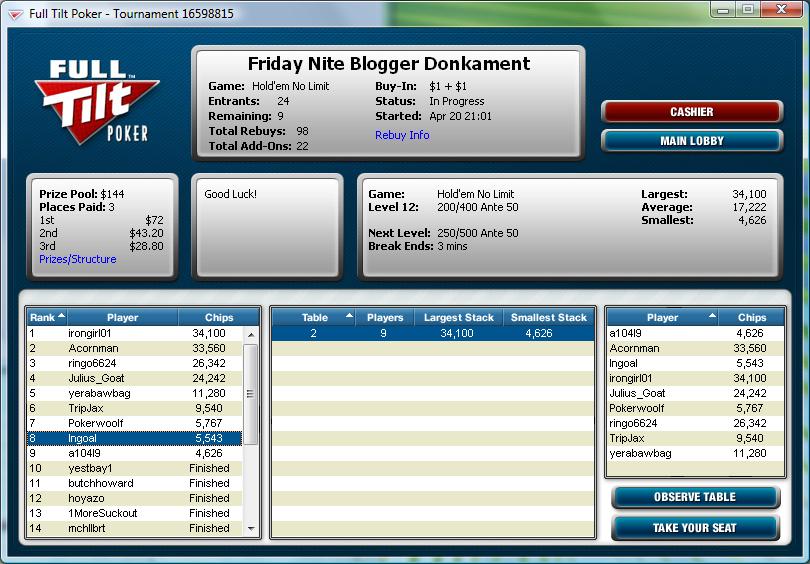 8th out of 9…hmm…not a pleasent spot to be in…after we lose the first player, I push my stack in with A10o, which is no match to the other player's JJ…
So, I'm out in 8th…
So…am I disappointed? Not really, I played some donk poker (early on), I played some good poker (middle stage up to the final table) and I played some decent poker at the final table. All in all…10$ spend for 2.x hours of good poker fun with the boys (and gals)! See you all next week…
Fast forward to today, we started the day off by watching the top match of the german footie league (our local VfB Stuttgart whooped Bayern Munich 2-0) and a nice BBQ. After enjoying the goods, we decided to play a little poker, surprise surprise. We started an eight-handed SnG with a payout structure of 50/30/20%. Got off to a slow start, but finally picked up a decent hand once the blinds got bigger. I look down at QQ in the BB…two limpers…so I decided to push…not the best move there, but with all the chasers at our game, I'll rather win a small pot than seeing my Queens go up in flames on a bad board. One of the limpers has another idea for the hand though. I'm a little worried there as he's really thinking about calling…could he have Aces? Could he have Kings? Sure, but then again, if he had that, his money would already be in the pot for sure…so I wait for him to make his move and he finally calls with KJo…errrm yeah…probably a good idea, wait, not really. The queens stand up and I double up to around 3k in chips (2k starting stack). Fast forward a few levels and "the hand" comes down. I'm in the SB…we're five handed…UTG folds…UTG+1 calls…button calls…I look down at 88…I raise…BB flat-calls…shortstack UTG+1 shoves it in (practically "only" doubling my bet)…the button calls…I call…BB calls…no need to get cute here, let's see what the flop brings…flop comes down 89T rainbow….hmm…bottom set…not bad…check…BB checks…UTG+1 is already all-in so no action…button bets out 1.5k….hmmm…why bet into a dry sidepot here? Hmmm…I've got around 3.xk left…so I ponder my options…could it be that he flopped a bigger set here? Absolutely, but if I'm scared of set over set here, why am I playing at all, especially given the fact that the button is one of our resident maniacs. So I ponder a little and put him on either an overpair or top pair (which would both be gold here)…I push over the top and the BB folds…showdown…button A10o for TPTK…shorty KQo…me…88 for a set of eights…the turn is a blank and I got the huge sidepot secured…the only card that can take the main pot from me is a J…that doesn't hit and I drag the biggest pot I've ever seen in our homegame. I'm sitting there with roughly 65-70% of all chips in play and we're down to four handed (bubble time)…the next orbits are a blur, but I don't use my bigstack to really bully ppl, but I used it to make the obvious button moves. We lose a player and then another player and I'm headsup with the resident maniac. Not really the player I want to see there, but my 3:1 chiplead gives me some leeway here. I lose the chiplead in one of the typical hands. I hold JXo and I flop two pair. I bet out pot-sized. Call. Turn blank. I lead out half the (now substantial) pot. Call. River Q. Check check, as I know I'm toast….and I am toast…back to even. Sigh…I lose some pots…and after a sick hand, I flop Aces he flops second pair…rivers his kicker…and he's roughly a 1,8:1 chipleader now…after folds on both sides for some orbits, the money finally goes into the middle and I got the best of it. I'm in command at that point and it's a matter of a few more hands until the money goes in again…me AJ s00ted vs "The negreanu" (T7o)…flop brings a pair of queens and a king…turn is a 9…river is a T and i take it down with broadway. Wheeee…finally a W again after the long drought. Took second last time, first this time, things are looking up again, ever since I re-evaluated my live game…good stuff there…all in all…a perfect saturday…hope you had a good one, too…good luck at the tables…
No Comments so far
Leave a comment
Leave a comment
Line and paragraph breaks automatic, e-mail address never displayed, HTML allowed:
<a href="" title=""> <abbr title=""> <acronym title=""> <b> <blockquote cite=""> <cite> <code> <del datetime=""> <em> <i> <q cite=""> <s> <strike> <strong>