Treading water again
Started the session with a donktastic 8.8$ Turbo DS to the sunday million. After nearly 30 minutes I took down the first table and what a brutal suckout it was. We're down to headsup and I'm down about 3:2 in chips. I win some small pots and I'm slightly ahead when the hand comes down. I look down at Ad7d in the BB….my opponent open-pushes…what do I do here? I opted to call and he shows A8o. So fugly I yelled…until the board produced a 7 and no 8. Ouch. My opponent was mighty pissed – understandable, but hey…about time I filled up the suckout column.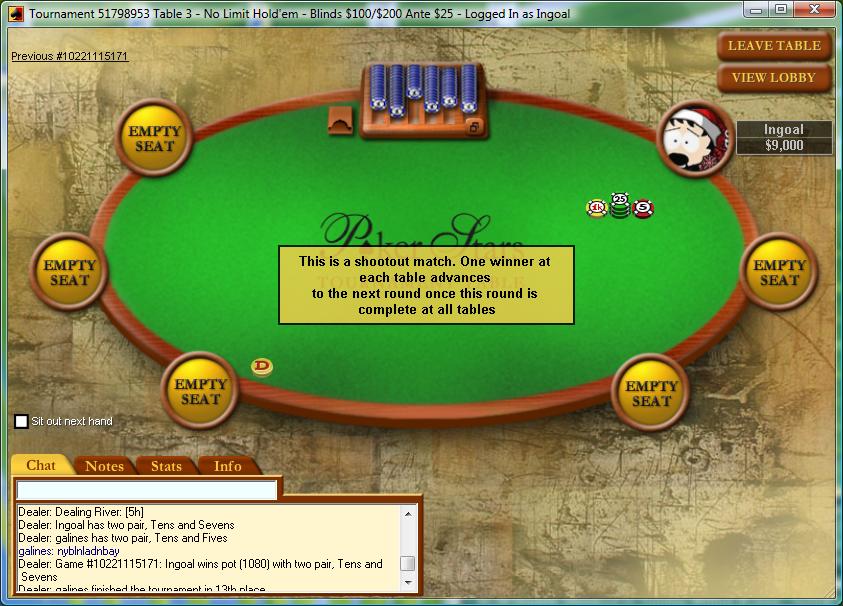 After that it was waiting time…although the other five tables finished up quite quickly thanks to the crapshoot blind increases. So after a combined 40 minutes we sat down at the final table. I win the first two hands (AQ brings broadway vs Q7o; and AJ c-bet on the flop takes it down). Within the first orbit we lose our first player (bubble boy) with a nice fugly cooler. He got AsKs, his opponent 89o. They see a flop with two spades and a 9. Turn is the 9s giving the AKs guy the nutflush and his opponent trips. Push comes to shove. River Q pairs the board and the poor guy with the nutflush is down to 40 chips. So fugly. I sit back and relax and wait for my next decent hand. I find TT on the button, shorty UTG has raised…I decide that I probably got the best hand here and I put him to the test reraising to 640 (his stack). He instacalls with KK…fugly.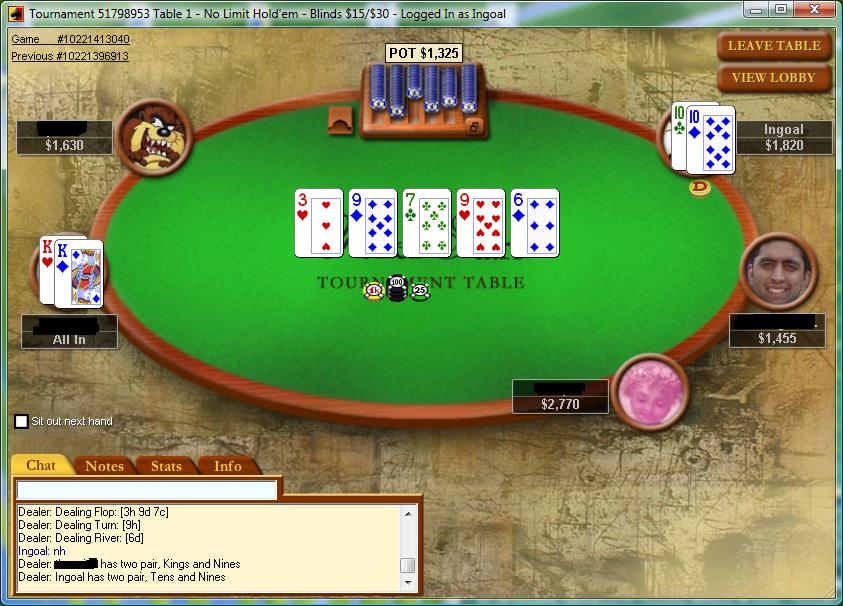 So I'm back down to 1810 in chips and I wait for my next hand and wait and wait. As the blinds are increasing and increasing I'm force to play a hand sooner or later. T7o in the BB is good enough as we see an unraised flop. I flop TPNK + OESD. I lead out and he pushes. Hmmm…I'll take my chances as he could be on a diamond-draw here, maybe a diamond-draw with a pair. He flips T9o. So fugly…this guy was really my personal cooler. Won the broadway hand against his monster Q7o…then he coolered me with Kings vs Tens and now this and I'm busto in fifth…FUGLY.
After that one I played some more 11$ Turbo HU matches and it started out mighty fine. First match W. Second match…one hand…W. Then it started to get ugly again. Third match and I can't get rid of this donkbox. I take the lead, he comes back. I take the lead, he comes back. I take the lead, he sucks out. He sucks out and I'm behind. Then the usual shit comes down…
Fourth match L. Fifth match L. Sixth match finally a W again against a superfish who can't fold any pair he hits on the flop or has in his hand, not even third pair or a pocket pair with five overcards on board. Still took me nearly sixty hands to finish him off, just tells you how hot I'm running, errrm, well, not really….anyway…after that match and being 3 and 3 I decided to quit before I get myself stuck again…
No Comments so far
Leave a comment
Leave a comment
Line and paragraph breaks automatic, e-mail address never displayed, HTML allowed:
<a href="" title=""> <abbr title=""> <acronym title=""> <b> <blockquote cite=""> <cite> <code> <del datetime=""> <em> <i> <q cite=""> <s> <strike> <strong>