High Stakes Poker 4
Just one more week and it's going to be High Stakes Poker time again. Season 4 will kick off next monday, 9PM on GSN, and I gotta say, I'm really looking forward to it.
Browsing through the player lineup, I came across the following pic: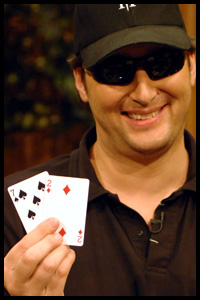 Phil "Best Hold'em player in the world" aka "Cash game donkey" Hellmuth Jr. is making a return and look at his promo shot for his player profile, totally hawesome!
2 Comments so far
Leave a comment