WCOOP here I come…or not…
Well, well…just a little poker session again…two PLO8 matches, 1W 1L. After that I was pretty bored and saw that there were DS satellites for tomorrow's WCOOP event #1. 8,8$ a pop with 36 players, first get's the ticket, 2nd to 4th get 20$, 5th 13$…good deal, let's get it on.
The first table was easy…always nice to hold a cooler early on and have someone push into the nuts. I held AA on the button…LP pops it…I repop him, he pushes…I call…he shows KK…rockets hold up. Nice. A few orbits later a really loose push-happy donks raises 5BB preflop…I look down at the s00ted K8 in the bb and decide to call…if I flop gin I have all his chips, if not I fold and lost 150 chips. Flop comes down three diamonds…gin…I lead out and he does as expected…push…insta-call…he's drawing dead…cya….I bust another player and then my headsup opponent when my JJ holds up…
I waited for the final table to start and once it did I made sure I chilled out until the first one busted. I still picked up a nice pot early on with a little flush over flush hand…and once the first player busted I sat pretty, second in chips. Once we were down to three-handed I made my first mistake pushing TP into an overpair (KK)…I sucked out on the river…new chipleader: me. I busted the third player and we were headsup. My opponent wins a few hands and he's the chipleader. Grrrr….I make the next mistake by pushing K3 into K9…d00minated…3 on the flop and I'm monster-chipleader again. Ouch….that was the same player with the Kings cracked on the river. I double him up again. I'm still in the lead and when I look down at presto…I decide to pop it and call his push…presto gold and I'm the winner…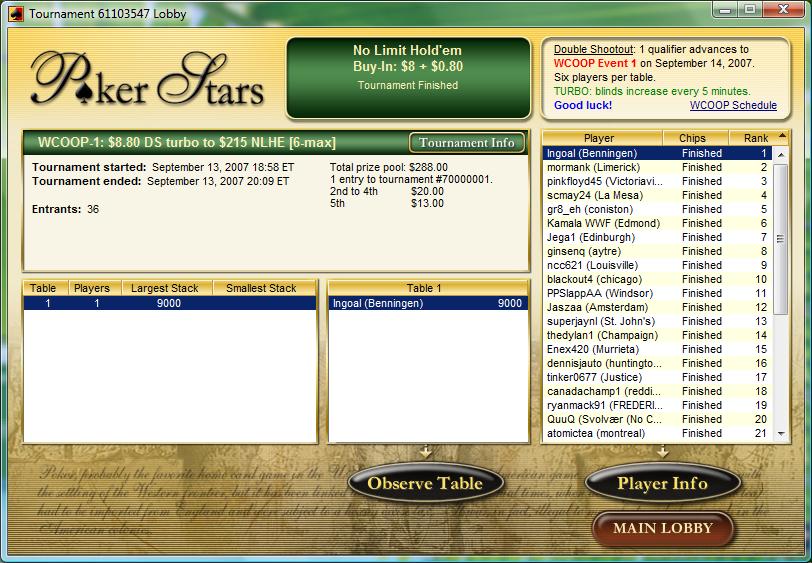 As I can't play in the event tomorrow I unregistered…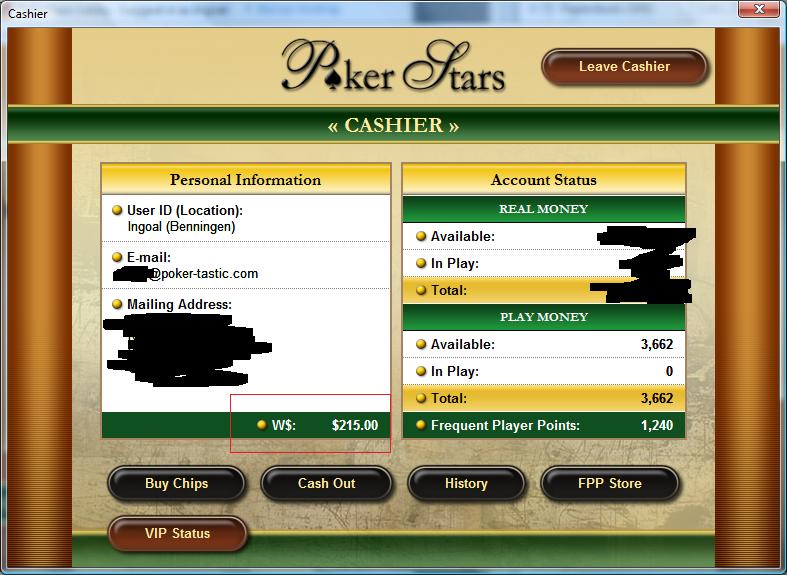 Uuuuuuuh W$…not good…I could use them to buyin into one of the WCOOP events I intended to play (e.g. Razz), but then again…who knows if I'll be able to play…so no use having them sit around in my account (too bad it wasn't T$ then I would have used them to play SnGs again)…so I look around for a place to sell the W$ and the best spot I found was the pokernews exchange…and all I can say is: praise, the transaction took under 5 minutes and I've got the money (89% = 191,35$) in my account.
So…all in all a wonderful session for me and a nightmare for my headsup opponent…no chance in hell is what he had…and I know that it wasn't because of my flawless play, but because I got lucky in two big hands (76o vs KK, K3 vs K9), which means he got unlucky as hell…oh well…I'll take it (and whine like crazy the next time shit like this happens to me) 😉
…in other news: spent another 500FPP for a black PokerStars shirt…now I can switch between my PPA, FullTilt and PokerStars shirts for my live appearances…wheeeeeee….
No Comments so far
Leave a comment
Leave a comment
Line and paragraph breaks automatic, e-mail address never displayed, HTML allowed:
<a href="" title=""> <abbr title=""> <acronym title=""> <b> <blockquote cite=""> <cite> <code> <del datetime=""> <em> <i> <q cite=""> <s> <strike> <strong>