What a hawesome night…
Man what a brutal session it was today…I can't put my finger on it…but something is awefully wrong these days. I'm spewing chips like an ATM…it's not even funny anymore. I can't put on a winning session anymore and I've finally managed to evaporate 2/3 of my bankroll. Downswing? Bad play? Bad luck?
I honestly don't know…but I'm trying to get some insight on this by going back to some analyzing and more extensive record keeping…on that note: I played 18 SnGs…won 2, finished second in 1, bubbled 5 times and busted out earlier in 10…now those are no pretty numbers.
All I know is that of the 5 times I bubbled I had the best hand going in 5 out of 5 times. Aces…cracked…Kings…cracked….Kings…cracked…etc…I got sucked out on in 4 of the other early finishes…sucked back in both wins…won 0 coinflips (yes I counted 😉 )…ran overpairs to the board into yet another higher overpair thrice…lost with dominated hands four times…all in all I would say: hmm…pretty unlucky with some bad decisions in between…(I guess I could have survived at least one of the overpair vs overpair situations…if your opponent puts in the third raise preflop and you hold jacks…seeing a flop of T63…you should be able to get away from it when he open pushes…then again…I'm soooo curious these days…why? Because ppl don't play like they're supposed to (surprise, surprise)….
Here's a pic to send you off…it's entitled "My Night"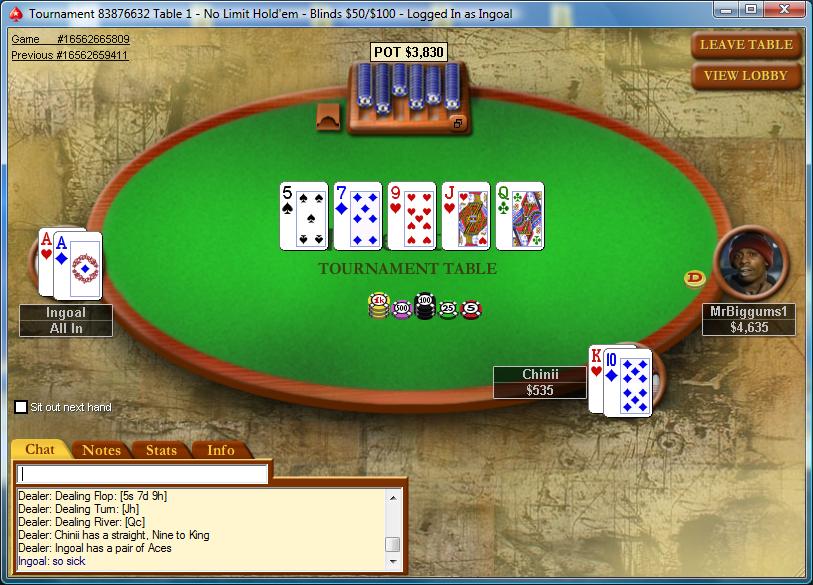 I'm off…and if the decline is continuing at this pace I'm going to be off for an extended period…no doubt…
No Comments so far
Leave a comment
Leave a comment
Line and paragraph breaks automatic, e-mail address never displayed, HTML allowed:
<a href="" title=""> <abbr title=""> <acronym title=""> <b> <blockquote cite=""> <cite> <code> <del datetime=""> <em> <i> <q cite=""> <s> <strike> <strong>